Nepal disaster: Relief as NI trekker contacts family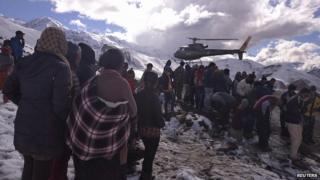 A Northern Ireland man whose brother was trekking in the Himalayas during a devastating storm has spoken of his relief that he is safe.
Patrick McDonnell is among a group of people trekking in the mountain range to raise money for the NI hospice.
At least 39 people are known to have died following Nepal's worst-ever trekking disaster.
Joe McDonnell said the family had been worried, but that they had now made contact with Patrick's group.
"When that avalanche happened they were at the other side of the mountain," he told the BBC.
"The distance from where they are is, say from London to Scotland away, that's the distance from the avalanche to where Patrick and the group are."
Mr McDonnell said the group had left for Nepal about 10 days ago, with the aim of raising money in memory of Belfast boy Oscar Knox who died in May.
However, the McDonnell family had lost contact with the trekkers because there was no signal on the mountain range.
But he said they now knew that Patrick and his group were safe and well.
"They hit base camp today and they are starting to make their way back down. Apparently the weather is all fine up there," he said.
The authorities in Nepal say the rescue operation to look for survivors of the recent avalanches and blizzards in the Himalayas has now ended.
An unknown number of other Britons, many of them on trekking holidays, are still missing.
The Foreign Office said it had no information so far that any Britons were among the casualties.
It is advising those in the affected area to call their families and to check its online travel advice and social media for updates.
A spokesperson said: "We are in close contact with the local authorities, who are managing the rescue operation."
.