Sinn Féin calls for Northern Ireland prostitution arrests stats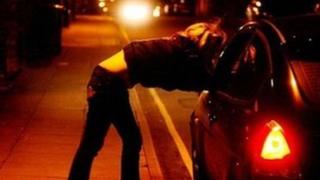 Sinn Féin has called for more information on the number of arrests and convictions made after a proposed ban on paying for sex is introduced in Northern Ireland.
The party has tabled two amendments to Lord Morrow's human trafficking bill.
The move has prompted speculation that Sinn Féin could be ready to vote in favour of outlawing payment for sexual services.
The bill is to be debated by assembly members next week.
Paid-for consensual sex is not illegal in Northern Ireland.
However, selling sex at a venue shared with other prostitutes, the involvement of a pimp or "booker", and soliciting for sex in a public space are criminal offences.
Clause 6 of Lord Morrow's bill would make it illegal for someone to obtain sexual services from someone else in exchange for payment.
The bill's supporters argue banning paying for prostitution tackles one of the main drivers for human trafficking.
Opponents say the clause confuses two distinct matters.
Justice Minister David Ford has said he is not convinced the ban is a good idea and the Ulster Unionist Party has also been critical.
However, Lord Morrow will have the backing of his DUP colleagues, which makes Sinn Féin's position crucial.
Sinn Féin has now tabled two amendments.
One would overturn the current law preventing anyone loitering in a street for the purpose of prostitution.
The other calls on the justice department to report on the number of arrests and convictions secured in the first three years of a prostitution ban.
It also calls for information on whether a ban reduces human trafficking and what impact it has on the safety of prostitutes.
Sinn Féin has yet to clarify its thinking, but the nature of the amendments implies its MLAs will not block the controversial Clause 6.
A study by Queen's University, Belfast, published on Friday suggests 17,500 men pay for sex each year in Northern Ireland.
The research was commissioned by the Department of Justice in response to Lord Morrow's bill.