Delta Print was paid £4m grant despite civil servant's value concerns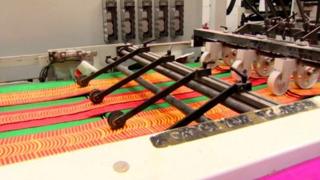 The Northern Ireland Executive directed a £4m grant to be paid to a west Belfast company, in spite of it being questioned by a senior civil servant.
David Sterling had written that he "was unable to support" a project involving Delta Print and Packaging.
The then permanent secretary at the Department of Enterprise, Trade and Investment cited "value for money grounds", but did not elaborate.
The firm announced a major expansion in March to create 100 new jobs.
This was partly facilitated by taxpayer aid, through Invest Northern Ireland.
Ministerial direction
Mr Sterling, in a letter released under the Freedom of Information Act (FoI), said, however, he had "no concerns in terms of the regularity and propriety of the project".
He said he also understood its benefits to the economy.
In October 2013, he told Enterprise Minister Arlene Foster that he required a ministerial direction to release a £4.6m grant.
According to government guidelines, directions are rare and can occur when expenditure is considered to be contentious.
Days later, the Northern Ireland Executive agreed with Mrs Foster that the money should be released.
Explaining the decision in a letter to Mr Sterling, she wrote that the executive had taken into account several factors, including "the creation of jobs in an area of economic disadvantage".
Delta Print is based at Kennedy Way in west Belfast and makes printed carton packaging for food retailers, among other customers.
The grant was part of a £40m investment to expand its premises and buy a new printing press.
Invest NI had described the project as "very complex and challenging", in other correspondence released to the BBC under FoI.
Mr Sterling notified the NI Audit Office of the background.