'Gang link' to drugs seizures worth £2m, Belfast court told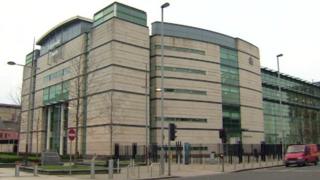 A organised crime gang in England is allegedly linked to a series of drug seizures worth in excess of £2m, a Belfast court has heard.
Among the seizures was a cannabis haul worth £600,000, recovered during a 2013 police raid on a slaughterhouse.
Four men, who were arrested earlier this week in locations in Northern Ireland and Manchester are facing charges connected to that drugs find.
All four were remanded in custody at Belfast Magistrates Court.
'Year-long investigation'
The accused are 53-year-old Edward Cameron, from Glenbank Drive in Belfast; 42-year-old Philip Colville, of of Glencairn Pass, also in Belfast; 48-year-old Michael Rainey, from Mark Street, Newtownards, County Down, and 39-year-old Scott Sotheron, with an address at Walmersley Road in Bury, Lancashire,
They are each charged with conspiracy to supply and being involved in the supply of class B drugs.
They were arrested as part of a wider, year-long investigation.
A Police Service of Northern Ireland detective told the court that a crime gang in England was involved in supplying drugs across the Irish Sea.
The detective said that six separate police operations had resulted in cannabis and cocaine seizures, with a potential street value of more than £2m in total.
'Drugs transport manager'
The slaughterhouse seizure, which resulted in the four defendants facing charges, was made in County Antrim's Seven Mile Straight area in September 2013.
It was alleged that the herbal cannabis consignment was on a lorry driven by Mr Rainey, which travelled from Scotland to Northern Ireland by ferry.
Police claimed Mr Rainey then handed over the haul to the occupants of a car being driven by Mr Cameron.
The court heard the drugs were eventually moved to an address at Seven Mile Straight, where two other suspects were arrested at the time.
The detective alleged that Mr Colville had acted as "transport manager" in the operation.
'Duress'
He also claimed that Mr Sotheron had met up with Mr Rainey in the Scottish borders area two days earlier, and told the court that the Englishman's DNA has been found on a hold-all linked to the seizure.
During police interviews, Mr Rainey claimed that he had acted under duress, the detective said.
The court hear that Mr Rainey told police that a man had approached him in the ferry toilets, handed him a mobile phone and ordered him to make a collection in Carlisle or else someone would "get it".
The detective said: "When asked what he had done with the phone he said he threw it into the Irish Sea."
The judge was told police had compiled telephone, surveillance and CCTV evidence of the alleged drugs importation.
"When police made the intervention it was in a slaughterhouse where drugs were being divided up into smaller quantities for onward movement in the drugs trade," the detective said.
The judge refused bail to all four men and they were remanded in custody to appear again by video-link on 13 November.