The Sound of 1937: BBC NI delves into its oldest recordings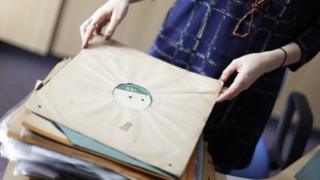 They are the voices and sounds of a bygone era.
The oldest recordings by BBC Northern Ireland preserve a slice of life as it sounded in the 1930s.
A mill owner, and the BBC interviewer, speak with the kind of clipped, received pronunciation that we no longer hear.
However, a mill worker, and those socialising at a County Tyrone céilí, still sound familiar.
Their voices are all archived on old records, kept at the Ulster Folk and Transport Museum in Cultra, County Down, and heard again in a BBC Radio Ulster documentary, The Sound of 1937, as BBC Northern Ireland celebrates 90 years of broadcasting.
The records are the oldest recordings BBC Northern Ireland has. Made of shellac - like old 78 records - they had to be sent away to be carefully digitised.
Oldest trades
They hold a mixture of interviews and sound effects, limited to the three or so minutes that each disc could hold. They have labels like Belfast at Night No 1, Linen Spinning and Commentary on Lough Neagh Eel Fisheries. Not all of them match up, but it seems they are the remaining pieces of various broadcast projects from that year.
There are interviews with Capt J C Herdman, owner of the linen mill at Sion Mills, County Tyrone, and with one of his workers, Mr Harkin, who describes his job as a "hackler" as one of the oldest trades in the world. "Adam and Eve are on our banner," he says proudly.
Lamplighter
Capt Herdman's granddaughter Celia Ferguson still lives in Sion Mills, and would like to see the mill, which only stopped operating in 2006, restored and turned, with the village, into a world heritage site.
There is a chat with a lamplighter in Belfast, who reveals that after lighting the gas lamps on the Lisburn Road he went out again later to put half of them out, because they did not need that much light later on. Nowadays, there are plans for new street lights that will brighten and dim automatically.
That is one of the striking things from the 1937 material. Trades, occupations and businesses were people-rich. The same basic processes and jobs are undertaken, but done by machine. At the Belfast tram depot, a team of several dozen cleaned the vehicles overnight.
Since then, as a current staff member at Translink Metro noted: "They lost their jobs and we got a new automatic wash." But the fact that children rarely walk to school means cleaning the inside of our urban transport vehicles is now a bigger job.
Interesting turn
There are one or two surprises. Few people remember that there used to be a small, wooden lighthouse on stilts (or piles) in Belfast Lough. Not far off ashore at all, but Mr McFerran and his colleagues still had to spend two weeks on, one week off, in its basic accommodation.
The career of one very posh interviewee also took an interesting turn.
Raymond Glendenning left Belfast and went on to become one of the BBC's best-known national sports figures, commentating on the FA Cup final every year from 1946 to 1963.
His publicity pictures also provide the clue to his role as founding president of the Handlebar Club.
The organisation was devoted not to the bicycle part, but the moustache.
The BBC Radio Ulster documentary The Sound of 1937 was first broadcast on Sunday 19 October.