Ulster Orchestra 'could close without funding' chairman warns
By Kevin Magee
BBC News NI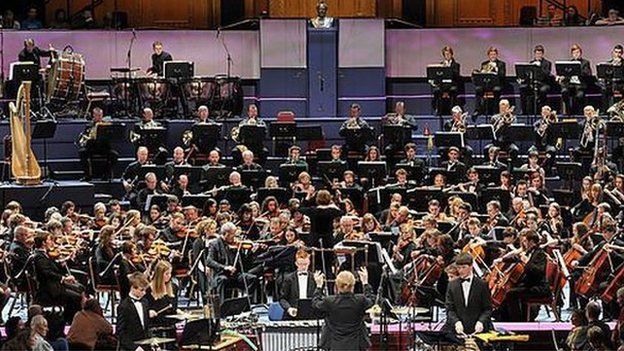 The Ulster Orchestra will be forced to close by the end of the year unless it receives £500,000 in emergency funding, its chairman has warned.
Sir George Bain's warning came as he revealed the details behind a rescue plea to Belfast City Council that could mean a name change for the orchestra.
"The worst case scenario is that we do not get any further financial support to give us breathing space," he said.
It costs about £4.5m a year to run the Ulster Orchestra.
It said it had lost 28% of funding from public sources - the equivalent of £1m - in the past four years.
In a bid to survive, it has asked Belfast City Council to back a rescue plan that includes a £500,000 funding guarantee to keep it solvent until March next year when it would be restructured.
It is also asking for the free use for the next five years of the Ulster Hall, which costs about £160,000 a year.
According to Sir George, the orchestra could end up changing its name to something like the Belfast Symphony if the rescue plan was accepted.
"If the council were to support us in a much greater way than in the past, whether the orchestra might change its name is certainly something we are prepared to consider," he said.
If the money is not forthcoming, the orchestra is warning it could go into administration before Christmas and close not long afterwards.
The orchestra employs 63 musicians and 17 staff. It is the only full-time professional orchestra in Northern Ireland, and plays the majority of its concerts in Belfast's Ulster Hall and the Waterfront Hall.
The BBC gives financial support of £639,000 a year to the orchestra.
A BBC spokesman said: "This allows us to provide broadcast concerts for BBC audiences at home and around the UK.
"We have no immediate plans to reduce BBC NI's contribution to the orchestra's funding, but are facing our own financial challenges as a result of the freeze in licence fee funding."
Belfast City Council has yet to respond to the orchestra's request for additional funding.
Related Internet Links
The BBC is not responsible for the content of external sites.