Ebola: PM says liaison between NI and Republic of Ireland will happen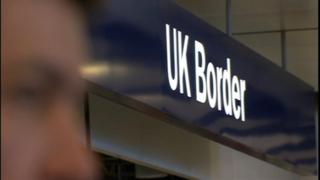 Prime Minister David Cameron has said he will make sure proper liaison takes place with Northern Ireland and the Republic of Ireland over Ebola.
He was responding to a question from the DUP MP Nigel Dodds.
Mr Dodds stressed the importance of liaising with Northern Ireland because it shared a land border with another jurisdiction.
The World Health Organization said 4,447 people have, so far, died. Most of those have been from West Africa.
Speaking in the Commons on Wednesday, Mr Cameron said: "It is worth stressing there are no direct flights from Liberia, Sierra Leone or Guinea into the United Kingdom.
"We're talking about people who have come here indirectly and that is why it is so important we put in place the screening processes, starting at Heathrow, but to be rolled out more as the days go by.
"I'm absolutely convinced that we will do everything we can to keep this country safe and I'll make sure that proper liaison, not only with Northern Ireland, but also with the republic, takes place."
Meanwhile, a spokesperson for the Western Health and Social Care Trust has confirmed that no patients are being treated in Altnagelvin Hospital for Ebola.
It followed a health scare on Tuesday when a person presented at the hospital with Ebola-type symptoms.
The way the hospital dealt with the scare was praised by Northern Ireland's Health Minister Jim Wells.
He said the authorities were now satisfied that the person did not have the deadly virus.
Mr Wells estimated that between 15 and 20 frontline medical staff from Northern Ireland were among the 600 UK medical staff treating Ebola victims in west Africa.
"It is unlikely that someone would travel directly, for instance, from Liberia to Belfast so, crucially, entry points, ports and airports, will have to be very carefully checked," he said.
"It is a worry. I have to say that because there are 600 aid workers in West Africa from the United Kingdom and a proportion of those are from Northern Ireland.
"Clearly those individuals, who are doing excellent work, when they return, we'll have to be particularly careful with that situation."
Mr Wells took part in an emergency conference with other UK health ministers on Wednesday morning to discuss measures to stop the virus entering the UK.
On Tuesday, the minister told the assembly that preventing the spread of the Ebola virus to Northern Ireland was "an absolute priority".
Mr Wells said that anyone entering Northern Ireland from an affected region in west Africa would likely have travelled through London or Dublin.