Colleges Northern Ireland say schools are 'failing young people'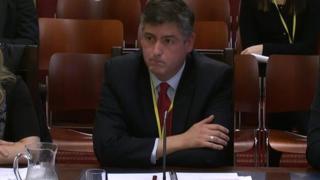 Some young people attending vocational training courses have been failed by their schools, the body representing colleges in Northern Ireland has said.
Gerry Campbell from Colleges Northern Ireland told MLAs that fewer 16-year-olds are going into further education.
He said some were making a mistake by staying at school after GCSEs, and that many leave after one year of A levels.
He said that year would be better spent in further education, where they would benefit from work-related training.
Mr Campbell was giving evidence to the Northern Ireland Assembly's employment and learning committee.
He told MLAs that by the time the young people who drop out of A level studies enter further education colleges, they have missed a year which could have be spent in more appropriate training for a job.
Colleges Northern Ireland (Colleges NI) represents all six regional colleges, including Belfast Metropolitan College, Northern Regional College, North West Regional College, South Eastern Regional College, Southern Regional College and South West College.