Ballyarnett alert: 'Viable device' found in Derry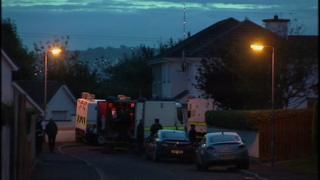 A suspicious device found during a security alert in Londonderry was viable, police have said.
Up to 30 homes were evacuated in Ballyarnett overnight. Residents have now been allowed to return.
Sinn Féin councillor Sandra Duffy said it was very upsetting, especially for families with very young children.
"I am absolutely horrified that anyone would leave a viable device in a quiet residential street," she said.
"Young children are playing there on a daily basis and it is very upsetting for the families."
"Disruptive"
Gary Hargin, a father of two children, said he was shocked after he was told by police that he could not get back into his home.
Speaking after they were moved away from their house, he said: "We've two young kids and it's normally their bed time. Now they're unsettled and my daughter's on prescription milk and we can't get access to it," he said.
"So it's very disruptive to the rest of our evening. We've got visitors and they're having to stay with friends, it's not very nice to be put out of your own home."
Ch Insp Tony Callaghan said: "The responsibility for this disruption and danger lies squarely with those who planted the device."
SDLP councillor Brian Tierney said it was very distressing for those affected.
"This is a completely unacceptable and senseless incident in what is usually a very quiet area with many young families," he said.