Stormont departments must find £25m to avoid breaching limits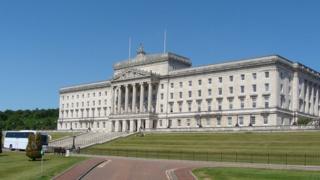 Stormont departments will still have to find another £25m to avoid budget limits being breached before April.
Last week, the Treasury agreed to make a £100m loan to Stormont to deal with pressing issues in areas like health.
However, that still leaves an overcommitment of £25m following the October budgeting process.
That is a small sum in the context of Stormont's £10bn budget and can probably be found through departmental underspends.
Finance Minister Simon Hamilton said he had "encouraged all ministers to make best endeavours" to identify underspends in the remaining months of this financial year.
Mr Hamilton also gave more details of the pressures being addressed with the loans.
Most of the money, £60m, will go to health, £10m to the PSNI, and £11m to Invest NI.
Chief constable criticised
On Monday, the finance minister criticised the PSNI chief constable for making "political" comments about funding the police service.
Simon Hamilton said he was "deeply disappointed by some of the comments made by the chief constable at the end of last week.
"Some of his comments were, I felt, political in tone and in nature," he said.
Chief Constable George Hamilton told the Assembly's Justice Committee on 9 October that further cuts to the police budget could result in an "unrecognisable" police service.
Referring to the executive's failure to reach agreement on welfare reform, Mr Hamilton said that "we have needlessly squandered £87m of funding that could have delivered significant benefits in areas like health care".
"We must now, as one, dedicate ourselves to the huge task of agreeing a draft budget by the end of October," he said.
Chairman of the finance committee, Daithi McKay of Sinn Féin welcomed the allocations to government departments, especially to frontline services such as health.
He asked if the British government was beginning to display cold feet regarding the devolution of corporation tax.
Mr Hamilton said he was "still hopeful that our negotiations on corporation tax will bear fruit".
He criticised members of the executive who had voted against the £100m loan but were prepared to take the allocation of funds for their department.
"I will give them the opportunity not to take the money," he said.
Chris Lyttle of Alliance said Mr Hamilton's "imaginative" approach to the financial situation amounted to "loans, job cuts, pay freezes".
The £100m Treasury loan is dependent on the executive agreeing a "credible plan" for a 2015/16 budget before the end of October.
The finance minister is now expected to bring a budget paper to the executive next week.