NSPCC: Northern Ireland reports fewer child neglect cases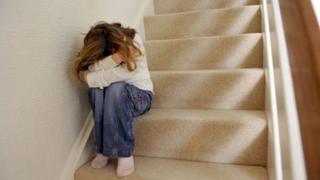 People in Northern Ireland are more reluctant than the rest of the UK to report suspected cases of child neglect or abuse, according to the NSPCC.
The charity is opening a helpline in its Belfast office, in the hope of encouraging more people to contact them.
Callers can choose to be anonymous.
They can get advice on a situation they are worried about, or see that child protection authorities get a chance to investigate.
"Most of the calls which come in to our helpline are neglect cases," said David Burns, the Belfast helpline manager.
"We also get cases in relation to child poverty and sexual abuse, but we also get a lot of calls asking for general advice."
Last year the helpline received almost 1,000 calls, and 58% were serious enough to be referred on to social services and the Police Service of Northern Ireland (PSNI).
However, Mr Burns thinks there could be more potential callers.
"Last year, there was a 23% increase in people from Northern Ireland calling the line, but we still think that's under-reporting," he said.
"Compared to the rest of the United Kingdom, we are still not seeing the response we would like."
It is hoped the new helpline in Belfast will become a local service for local callers, staffed by child protection experts.
The referrals it generates are expected to be of great value to the statutory child protection agencies.
The cost of the service, with its seven new jobs, is being supported by the PSNI, the Safeguarding Board and Invest Northern Ireland.
One of the experts staffing the line will be Adrian Somerville, who is used to hearing from callers who have been worried that they are telling tales about other families.
"It's very common for people to say it's taken them quite a long time to lift the phone to us, weeks or months even," he said.
"It can be very difficult, especially if they are connected to the family or a family member, a friend or a neighbour.
"But often we can put people's minds at rest."
For people who are worried about a local child but are uncertain whether to get in touch, the NSPCC says simply: "Don't wait until you are certain".
The helpline number is 0808 800 5000, or text 88858. Email: help@nspcc.org