Casement Park: Judgement reserved in High Court case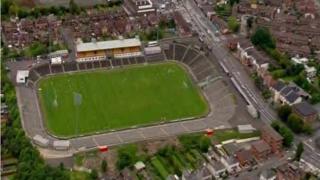 Judgment has been reserved in a High Court bid to stop a new 38,000-seat GAA stadium being built in west Belfast.
A residents group issued proceedings against Environment Minister Mark H Durkan's decision to approve the £77m Casement Park redevelopment.
Mr Justice Horner heard 13 days of legal submissions.
But despite the case having extended well beyond its anticipated duration, neither side will be faced with a huge legal bill if they lose.
Mooreland and Owenvarragh Residents' Association (MORA) have already been granted a protective costs order (PCO) limiting their potential liability for opposition fees to £10,000.
Should the Department of the Environment lose the case, it will only have to pay £35,000 of the residents' legal costs.
But Mr Justice Horner must first study all the arguments before delivering his verdict at a later date.
He has already visited the site to help in his assessment of the project's potential impact on the surrounding area.
The proposed new stadium is to include fully modern facilities and corporate resources.
Existing neighbourhood
Funding for the development is being split, with £62m coming from the Department of Culture, Arts and Leisure and £15m from the GAA.
MORA contended that it will be too big for the area, dwarf surrounding homes, block out light and compound traffic congestion.
Their lawyers described the scheme as an "injustice which would be unacceptable anywhere else in Northern Ireland".
It would be impossible to construct a stadium on that scale that would visually integrate with the existing neighbourhood, it was claimed.
Central to their case is an allegation that the environmental assessment was defective because it relied on Casement Park's existing 32,600 capacity as a baseline for examining the environmental impact of an increase of about 5,000 seats.
Emergency evacuation
Mr Justice Horner was told the new stadium would be replacing a ground that has not come close to selling out a lower capacity in decades.
Police claims that emergency evacuation of a full house at redeveloped facilities could take up to 47 minutes were also explored.
But counsel for the Planning Service warned during the hearing that GAA fans will be stuck with a "crumbling and decaying venue" if the decision to approve a new arena is quashed.
The £62m of public money allocated to the redevelopment would then be returned to the Stormont Executive for spending elsewhere, the court heard.
Lawyers for the GAA said the sporting organisation would not abandon Casement Park if the planning permission is overturned.
The project's spiralling bill was also outlined.
The delay in starting full construction on the stadium is said to be costing £60,000 a week
The overall bill for the redevelopment has now risen by £2.7m.
Counsel for the GAA also revealed that nearly £5m of preliminary work will be lost if the scheme is halted.