North Belfast hate crime victim says he may leave city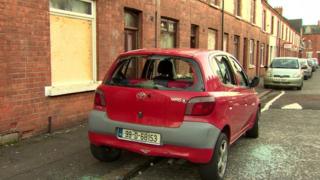 The victim of a hate crime in north Belfast has said he does not think he will stay in the city after weeks of attacks.
Ashan Parhiar said he does not feel safe in his home since moving there in August.
His car was attacked and his front window broken in an attack at Bray Street, in the Woodvale area, on Sunday.
A number of other houses also had their windows broken.
The DUP, Sinn Féin and PUP have condemned the attack.
Mr Parhiar, who is originally from Pakistan but is also a European Union citizen, said it was the latest in a number of attacks directed towards him and his family.
He said he had moved his wife and seven-month-old baby back to Pakistan until the attacks stopped.
"I will try my best to find a good secure, safe place. But I don't think I will find that in Belfast, because this place is only 400 yards away from the city hospitals and the city centre.
'Disgraceful'
"If I don't feel secure here, what is the guarantee I'm going to feel secure in other places? And if I don't feel secure in the city, then what is our PSNI (Police Service of Northern Ireland) doing in the city?"
He added: "I moved from London to Belfast in the hope I would enjoy living in Belfast.
"But this was disgraceful. The way people treat me in Belfast is totally unacceptable.
"I lived in the Republic of Ireland for 10 or 11 years, I was treated very well but when I moved to Belfast, I didn't expect it from Belfast people."
Mr Parhiar said the attacks started three days after he and his family moved into the house.
"I complained to the police several times and also contacted the crime agency in Belfast.
"I had my wife and small baby, so it was very difficult to live in this house but then I called my parents, my mother and father from Pakistan to come over.
"They saw what was happening with us and said it was unacceptable for us to live here.
"I said that's okay, I have my job here, but can you take my wife and child with you back to the home country until I get to sort out accommodation and keep my job."