Homes damage in Glenview Crescent, Newtownabbey, arson attack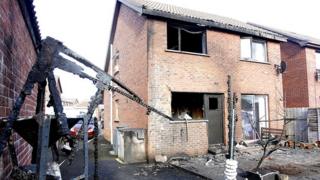 A house has been badly damaged in an arson attack in Newtownabbey.
It is believed the fire was started at about 03:00 BST on Sunday in a garden shed at Glenview Crescent and spread to oil tanks and the house.
A woman in her 50s who lives in the house was woken up and alerted to the fire by a neighbour and left the house uninjured.
It is believed the backs of neighbouring houses were also damaged as the fire spread.
Police said "substantial damage was caused to the house and neighbouring properties".
A spokesman said it was reported that a group of youths were seen in the area at the time the fire was started.
"We would be keen to speak with any of these youths," he said.
"I would also ask anyone with any information about this incident to contact CID in Newtownabbey on 101. Information can also be passed anonymously through Crimestoppers on 0800 555 111."