Ulster GAA launches project to trace players who fought in WW1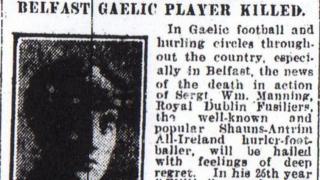 Ulster GAA is to launch a project to trace members of the organisation who fought in the First World War.
Forgotten Gaelic Volunteers, a nine-month research project by the Ulster Council, will be unveiled at an event in Queen's University.
Preliminary research has shown that dozens of GAA players from Ulster joined British Army regiments and fought in Europe between 1914 and 1918.
The majority of those identified to date came from west Belfast.
The Ulster Council said that the recruitment of nationalists from the area reached high levels, largely due to the scale of unemployment.
Those who signed up included 20 members of one Belfast GAA club, most of whom ended up in the trenches.
William Manning, a Belfast man who played for Antrim in the 1912 All-Ireland football final, was shot dead in 1918 while serving as a lance-sergeant with the Royal Dublin Fusiliers in France.
Other men traced so far include many who came from counties Tyrone, Londonderry and Antrim.
Private Patrick Gorey played for Tyrone in the 1909 Ulster football championship and fought with the Royal Inniskilling Fusiliers. He was killed in 1915.
Monday's event will feature representatives from the Ulster Council as well as Aogán Ó Fearghail, the GAA's president-elect.
Martin McAviney, Ulster GAA president, said: "The GAA as an organisation has a strong tradition of commemorating its past deceased members and it's in that context that we use this event to reflect on members of the association who were active or died during WW1."
As part of the project, which is being assisted with a grant from the Heritage Lottery Fund, the public have been asked to come forward with any details they have of players who fought in WW1.