Stormont: Loan from Treasury proposed to ease budget crisis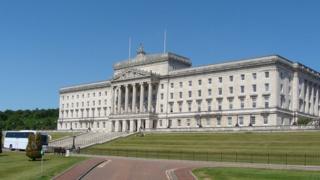 The Treasury has been asked to supply Stormont with a one-off loan of between £100m and £150m to ease its budgetary crisis, the BBC understands.
It is understood that Peter Robinson and Finance Minister Simon Hamilton made the proposal to the chancellor.
A meeting between the parties to discuss the latest financial allocations was scheduled for 14:00 BST on Thursday.
However, it started at about 20:00 BST.
There was speculation that Sinn Féin may not approve of all of the conditions attached to the loan, which would enable ministers to reach agreement on immediate financial allocations.
The loan would also ensure Stormont did not breach its spending limits by more than £200m at the end of the financial year.
However, it would increase the amount Stormont would owe the Treasury next year.
It is not clear what conditions the Treasury might attach to a loan.
The Treasury has not commented on its discussions with executive ministers.
Ministers are expected to discuss the latest financial allocations to departments, known as the October Monitoring Round, at Stormont on Thursday evening.
Justice Minister David Ford has described Thursday's meeting as a critical test of ministers' ability to do the job that voters have given them.
Earlier this month, the head of the Northern Ireland Civil Service formally warned the Treasury that it was on track to go into the red by the end of this financial year.
Northern Ireland's First Minister Peter Robinson recently said the arrangements for devolved government at Stormont were "no longer fit for purpose".
On Tuesday, Prime Minister David Cameron said he did not want the Northern Ireland Executive to collapse.