Samuel Beckett: Trinity College buys largest collection of writers' letters put on sale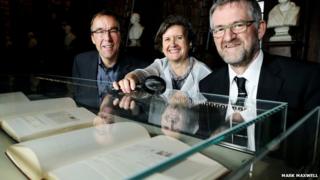 The most extensive collection of letters by Samuel Beckett put on public sale have been bought by Trinity College in Dublin.
The collection of 347 letters were sold by a private seller.
The letters and cards were sent from the Nobel-prizewinning author to artists Henri and Josette Hayden.
Trinity College said it now holds the "largest collection of Beckett letters of any research library in the world".
It added: "It is a fitting home for the correspondence of one of Trinity College Dublin's most famous alumni."
The college has put a small sample of the collection on display for the public.
The writer was born in Dublin but studied at Portora Royal School, Enniskillen, and also taught at Campbell College in Belfast.
Beckett and his wife, Suzanne Dechevaux-Dumesnil, met the Haydens when both couples were in southern France evading the Nazis during World War Two.
The letters in the collection begin in 1947 and cover the period in Beckett's life when his mother and brother, Frank, died.
They also cover the period when he was completing Waiting for Godot and working on his trilogy of books: Molloy, Malone Dies and The Unnameable.
"These Beckett letters are very significant for Beckett scholarship at Trinity College, as well as nationally and internationally," said Helen Shenton, librarian and college archivist.
"We have been developing collections of significant Irish creative writers, and these letters build on the existing Beckett collections the library already holds.
"We welcome the opportunity to be able to share these collections with students of Beckett and researchers across the globe."