Sue Ramsey: Sinn Féin MLA to stand down for health reasons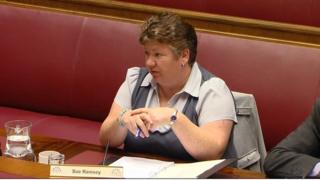 Sinn Féin MLA Sue Ramsey is stepping down from the Northern Ireland Assembly for health reasons, her party has said.
Ms Ramsey was first elected to the assembly in 1998, representing West Belfast, and has chaired a number of committees at Stormont.
She held the high-profile role of chair of the health committee from February 2012 to September 2013.
Sinn Féin leader Gerry Adams said she had been a "champion of the rights of patients" on the health committee.
He paid a warm tribute to the outgoing MLA, who he has known since she was a child.
"Sue Ramsey has made a considerable contribution to political life in the north over two decades, first as a political and community activist and then as an elected representative," Mr Adams said.
"Across a distinguished political career, Sue has made a huge impression on all of those she met and worked with.
"I am glad to call her my friend. She has a good heart and I hope her health is restored as quickly as possible," Mr Adams added.
Ms Ramsey started her political career in 1997 as a councillor in Lisburn, County Antrim, and was a member of Sinn Féin's negotiations team in the talks that led to the 1998 Good Friday Agreement.
Her resignation will take effect on 3 November, when another Sinn Féin will be co-opted to her assembly seat.