Christopher Logue: Solicitor accused of sex assault named as reporting ban is lifted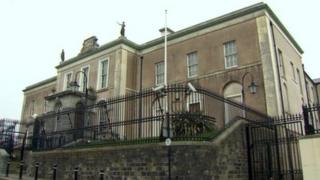 A solicitor accused of sexual assault can be named in the media, a judge has ruled, after news outlets challenged a reporting ban in court.
Christopher Logue, from Lady Wallace Crescent in Lisburn, County Antrim, is charged with sexually assaulting a woman in November last year.
The ban took effect when the defence argued naming Mr Logue would prejudice the case and damage his reputation.
It was lifted as the judge said naming him was "in the public interest".
"My view is that if there is fair and accurate reporting of the defendant's name... there would not be any substantial risk to the administration of justice," the judge told Downpatrick Magistrates Court.
He added he did not see "how the publication of his name could possibly prejudice" the future of the case.
'Professional reputation'
The temporary reporting restriction was put in place at the end of August, after a defence barrister argued that to name Mr Logue would prejudice the administration of justice in circumstances where "there's not a scintilla of evidence" to substantiate the allegations.
The barrister said the reporting restriction was needed because his client would be applying, at a later date, to have the case dismissed.
The defence also said that to name the accused solicitor, given the nature if the charge, would result in the loss of his personal and professional reputation.
A barrister, representing the media outlets that challenged the reporting ban, said the defence had not produced any evidence to support their claims.
She added that there were "examples across the board" of professionals being charged with crimes, "ranging from judges right through to solicitors".
'Vindicated'
She said the barring order sought under the Contempt of Court Act "is not a vehicle for the comfort or welfare of a defendant".
The media outlets' barrister added that if the case was reported and Mr Logue ultimately acquitted, his reputation would be "vindicated" as a result of the reporting of the case.
A prosecution lawyer told the court that "on a daily basis we see people brought to the courts from every profession, teachers, doctors, social workers and members of the legal profession and they're not afforded the benefit of not being put before the public."
She said that despite defence claims over a lack of evidence, the alleged incident had been captured on CCTV and many witness statements had already been taken.
The judge refused the defence application for anonymity, saying: "I do not see any reason that I should exercise my discretion or statutory power under section 4.2".
He listed the case for trial to begin on 2 December.