BBC Northern Ireland: Gala concert to mark 90th birthday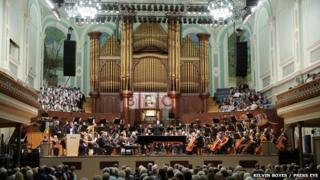 A gala concert has been held as part of commemorations to mark 90 years of the BBC in Northern Ireland.
The Ulster Hall event was presented by John Toal and celebrates the BBC's role at the heart of cultural and community life for decades.
It featured the Ulster Orchestra, classical guitarist Craig Ogden and pianist Michael McHale.
Other performers included songwriter Duke Special and the chapel choir of Methodist College, Belfast.
The Ulster Orchestra performed a mix of music from Gershwin to Handel, Karl Jenkins and Joan Trimble.
There was also a number of specially-commissioned pieces, some with an anniversary feel and others that were immediately recognisable to BBC audiences.
BBC Northern Ireland was born in 1924 but it was nearly 20 years later that Broadcasting House on Ormeau Avenue was completed.
Regional programming got properly under way with the opening of a new transmitter at Lisnagarvey in 1936.
Special compositions
In the same year, a Scottish architect was asked to design the new city centre headquarters to replace the limited BBC studios at Linenhall Street.
Local BBC television programmes made their first appearance in the 1950s and in the 1970s were complemented by the creation of two BBC local radio stations - Radio Ulster and Radio Foyle.
An official opening concert took place in the Ulster Hall in October 1924 and was relayed to other parts of the BBC's network and included a mix of speeches, music and special compositions.
Wednesday's night of celebration reflected key moments in the history of the BBC and the audiences it serves and the central role that broadcasting plays in people's lives.