John Holmes admits killing Stanley McAuley in Belfast alleyway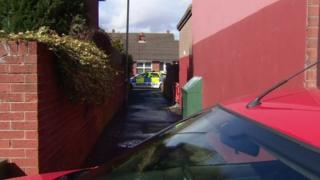 A man has admitted killing a father of three in east Belfast last year.
The victim, Stanley McAuley, died after he was attacked in an alleyway at Chamberlain Street in April 2013.
John Holmes, from Egeria Street, was due to stand trial for murdering him but a defence lawyer asked Belfast Crown Court to re-arraign his client.
When asked how he pleaded, Holmes said: "Not guilty to murder, guilty to manslaughter." His plea to the lesser charge was accepted by the prosecution.
The 33-year-old defendant was remanded in custody until pre-sentence reports have been completed, but he was warned that he faces an "inevitable" jail term.
Assault
Mr McAuley, who was 41, was found unconscious in the alleyway during the early hours of 14 April 2013.
He was discovered by police, who had gone to the scene following reports of an assault.
Mr McAuley was taken to Belfast Royal Victoria Hospital but died from his injuries.
After the re-arraignment, a defence barrister said his client would not be applying for bail.
Co-accused
The judge replied: "A prison sentence in a case of this sort is inevitable. It is sensible of Mr Holmes to embark upon this now."
Holmes' co-accused - 22-year-old Chanel Wilton, of Dunraven Court, and 49-year-old Alan John Victor Wilton, of Lord Street, also appeared at Belfast Crown Court.
Alan Wilton was charged with carrying out an act with the intention of perverting the course of justice - namely that between April 13 and 16, 2013 he concealed or disposed of clothing worn by Chanel Wilton at the time of Mr McAuley's death.
When he was charged, Alan Wilton replied: "Guilty."
Chanel Wilton was charged with aiding and abetting Alan Wilton.
Bailed
Legal representatives for both Chanel and Alan Wilton asked that pre-sentence reports be prepared on their clients.
They were both granted continuing bail by the judge but were warned that this should not be taken as an indication of the sentence they will receive.
All three defendants are due to return to court again on 21 November.