HIA: De La Salle order 'to protect innocent brothers' from Rubane House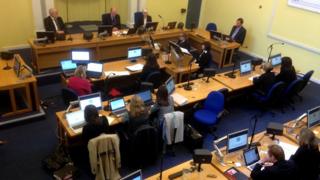 A religious order has said it will seek to protect the "reputation, integrity and character" of members who did not abuse boys at a home in County Down.
Counsel for the De La Salle order was speaking on Monday at the Historical Institutional Abuse Inquiry (HIA).
He said it believed some claims to be heard at the inquiry to be "inaccurate, unreliable and untruthful".
The inquiry is currently examining alleged abuse at Rubane House in the Ards peninsula.
The counsel for the De La Salle order said it had paid compensation and accepted that some members of the congregation did abuse young boys at the home.
But, he said the it believed that some claims are linked to alleged abuse that "did not take place".
One of the first child residents to be admitted to Rubane House has claimed he was sexually abused by a De La Salle brother a day after arriving at the former Catholic children's home.
'Boys disappeared'
The 77-year-old man is the first former resident from Rubane to appear before the inquiry.
The inquiry was told that the pensioner, originally from west Tyrone, made a statement to police two years ago alleging that boys "disappeared" from the home.
He claimed that boys who were in the home at night "didn't seem to be there in the morning".
However, the inquiry was told that the order had rejected allegations that "boys just disappeared" and has registers for all admissions and discharges at Rubane.
During his testimony on Monday, the elderly man told the inquiry: "I don't remember the good times, I had so many bad times".
The HIA inquiry was set up in 2013 to investigate child abuse in residential institutions in Northern Ireland over a 73-year period, up to 1995.
A total of 13 Northern Ireland institutions are being investigated.
About 200 former residents of Rubane House have made allegations of abuse.
A total of 55 former residents have come forward to the inquiry to allege that they were physically or sexually abused.