Belfast City Airport records £1.2m profit in 2013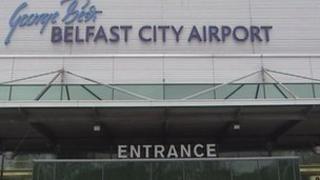 Belfast City Airport returned to profit in 2013, the firm's annual accounts have shown.
It made £1.2m, on turnover of just under £20m, which compares to a £1.7m loss in 2012.
The 2012 loss was influenced by an exceptional charge of £1m related to the decision to withdraw a planning application to extend the runway.
Meanwhile, Belfast International Airport had a profit of £398,000 in 2013, down from £2.2m in 2012.
The 2013 performance included exceptional costs of £536,000 relating to the sale of the airport.
Passenger numbers were down from 4.3m to 4m, which also saw turnover fall from just under £30m to £29.2m.
The airport also wrote down the value of its investment properties, which include the terminal buildings and car parks, from £75m to £65m.
The airport is owned by US firm, Airports Worldwide, which bought it from the Spanish company Abertis.