Charlie Flanagan: 'Unionists have nothing to fear over NI talks'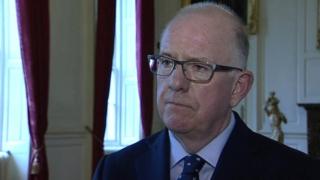 Unionists have nothing to fear from the Irish government's involvement in forthcoming Northern Ireland talks, the Irish foreign minister has said.
The new talks were announced last week after months of high-profile problems in the assembly at Stormont.
But leading unionists said there should be no Irish involvement in the internal affairs of Northern Ireland.
Irish Foreign Minister Charlie Flanagan told the BBC the Irish government will be there to assist and support.
"Our involvement will be no more, nor no less, than took place in the past and I refer specifically to Hillsborough, to Leeds Castle, to St Andrews and, of course, the initial signing of the Good Friday Agreement," Mr Flanagan said.
"So I would say to unionists there's nothing to fear by the involvement of the Irish government.
"We're offering our assistance, our support and our help because it's absolutely essential that politics in Northern Ireland is seen to work for the benefit of the community, for the electorate and for people young and old," Mr Flanagan added.
'No official role'
The inter-party talks are being convened by Northern Ireland Secretary of State Theresa Villiers, in a fresh bid to resolve outstanding political issues in the peace process, including disputes over flags, parades and the legacy of the Troubles.
She made the announcement at last week's Conservative Party conference in Birmingham and said both the British and Irish governments would be involved.
In recent weeks, parties in Northern Ireland's devolved administration have clashed publicly over the issue of welfare reform, with First Minister Peter Robinson describing the power-sharing arrangements as "no longer fit for purpose".
In response to Ms Villiers' offer of talks, Jeffrey Donaldson from the Democratic Unionist Party (DUP) said his party had made it clear that matters internal to Northern Ireland - welfare reform, parades and flags and emblems - were "exclusively a matter for the Northern Ireland and the UK governments".
Ulster Unionist leader Mike Nesbitt said there could be no official role for any foreign government in the internal affairs of Northern Ireland.