DUP: Northern Ireland has 'more than 140 crime gangs'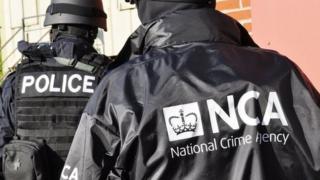 More than 140 crime gangs are operating in Northern Ireland, and the National Crime Agency must be given full powers to tackle them, the DUP had said.
The party said the gang statistics came from "police assessments" as it called an assembly debate on extending the NCA's role in Northern Ireland.
The NCA has fewer powers in Northern Ireland than the rest of the UK.
This was due to concern from nationalist and republican politicians about the agency's oversight.
The NCA, which was launched exactly one year ago, answers directly to the home secretary, meaning devolved governments do not have oversight or control over the agency.
Nationalist parties in the Northern Ireland Assembly argued this would mean the NCA could operate as a parallel but unaccountable police force.
In Northern Ireland, police officers are held accountable to the Policing Board, which consists of a number of elected politicians and independent members, appointed by Stormont's justice minister.
At present, the NCA exercises border and customs functions in Northern Ireland, but not the other crime-fighting roles it carries out in the rest of the UK.
On its website, the agency said: "We operate across the UK, respecting the devolution of policing in Scotland and Northern Ireland."
On Monday , two MLAs from the Democratic Unionist Party (DUP), Gregory Campbell and William Irwin, will continue their campaign for the NCA to be implemented "in full".
They have secured a private members' debate on the issue at the assembly, during which they will ask MLAs to support their call for the extension of the NCA's powers to Northern Ireland.
The pair said this was required in order to deal with the problem of organised criminal gangs, which they said was "particularly prevalent in border areas".