Dunlop racing dynasty film 'Road' shown on BBC One NI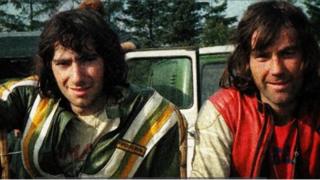 For two generations, the Dunlop family has dominated motorcycle road racing in Northern Ireland.
But their many successes have been accompanied by a string of tragedies.
A film exploring the fast and furious lives of the two pairs of brothers, Joey and Robert Dunlop, and Robert's sons Michael and William, has been shown on BBC One Northern Ireland.
Narrated by County Antrim actor Liam Neeson, the documentary, Road, tells the family's incredible story.
The documentary is the work of Northern Ireland production company Doubleband Films, and was given a limited release in a number of cinemas across the country earlier this year.
Road warriors
The film looks at the beginnings of the Dunlop family's involvement in motorsport and captures all of the high-speed moments leading up to the present-day, with William and Michael having taken over the 'road warrior' reigns from Joey and Robert, who both died in racing-related accidents.
Joey, whose fame in Northern Ireland was on a par with footballer George Best and snooker player Alex Higgins, died during a 125cc race in Estonia in 2000.
Robert, his younger brother, died eight years later after he was severely injured in a crash during a practice session for one of Northern Ireland's top sporting events, the North West 200.
The film shows how the loss of the Ballymoney brothers is still being felt by both the Dunlop family and the wider community.
Road also looks at how William and Michael Dunlop view the grim - and scarily close - realities of death given their tragic losses, and how they see it as a risk worth taking to be 'number one' on the road.
Indeed, the fiercely competitive brothers recognise that there is an inherent selfishness to their sport.
But, as Neeson proclaims in the film, if road racing is part of the fabric of life in Northern Ireland, then it is a torn and tattered tapestry, regardless of how vibrant its colours are.
Road is available to watch on iPlayer until 29 September 2014.