Sinn Féin says voting age 'should be part of talks'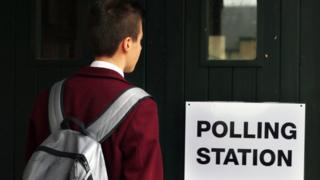 Sinn Féin is calling for the issue of the voting age to be included in negotiations on the future of devolution.
The issue is high on the UK political agenda after the Scottish referendum.
The 3.6m votes cast in Scotland last month included more than 100,000 by 16 and 17-year-olds.
The decision to allow them to have a say on independence has led to debate over whether the voting age should be lowered to 16 for other polls.
Members of the youth organisation WIMPS - which stands for Where Is My Public Servant - have been campaigning for 16 and 17-year-olds to have the vote.
At a meeting of a local group, which they call a "crew" in Belfast, young people spoke about why they thought it was time they were given the right to choose who represents them in the assembly, councils and Westminster.
"A young person's whole life is governed by politics," 17-year-old Ethan McKnight said.
He thinks it would help younger people to become engaged with politics, even if they choose not to put an X on a ballot paper.
"There's no guarantee young people will vote, just as there's no guarantee anyone from any age group will vote," he said.
"If they choose to vote for some of the parties here because they think they represent their own interests, that's great. But if they do not vote, at least they're choosing not to vote of their own accord, rather than out of ignorance."
'Bigger voice'
Rowena McCaughan, also 17, believes voting is comparable to other responsibilities she and her friends can have at that age.
"At the age of 16 there are so many things you can do - you can join the army, you can go into employment. But you can't decide who represents you," she said.
She thinks the right to vote would mean younger people would have a bigger voice on issues which affect them.
"We had no say whatsoever over university fees being raised - that was a major issue that was already decided for us before we were 18," she said.
At Stormont, four out of the five executive parties want to make 16 the voting age.
The Alliance Party, SDLP, Ulster Unionist Party and Sinn Féin would back the move.
Consideration
After the Scottish referendum, there is due to be a rethink of the structures of devolution across the UK.
Sinn Féin assembly member Megan Fearon said her party wants the voting age to be considered.
"I'm hopeful it will be included in the negotiations in the aftermath of the Scottish referendum - it's something Sinn Féin is very much in favour of," she said.
But the DUP believes 18 is the right age for people to enter the ballot booth for the first time.
Assembly member Alastair Ross does not believe a change in the law would encourage younger people to become more interested in politics.
"I think it's important to get young people aged between 18 and 25 to vote and then perhaps if we're successful in that, then perhaps you could look at extending the vote to 16-year-olds, but so far I haven't been convinced by the arguments," he said.
"Generally across the UK, 18 is the age which is recognised as when you become an adult. It's the age when you're able to buy alcohol, when you serve on juries - I think it's the most sensible age at which to give people the vote."
Student leader Rebecca Hall said: "Delivering votes at 16 will help politics and politicians better engage with young people as young people will then be involved in the democratic process.
"People pay tax at the age of 16, so they should be given a say on how tax revenues are spend by being able to vote," the NUS-USI president added.
In most countries, 18 is the age where you get to cast your vote.
In a few nations, 21 is the voting age.
But in recent years several have given the vote to 16-year-olds and up.
These include Austria, Argentina and Brazil.
Sixteen is also the voting age in elections in Jersey, Guernsey and the Isle of Man.
The parties in Northern Ireland say their positions on the matter are not determined by how they think a lower voting age would affect them in elections.
Although religion is not a certain guide as to how people will vote, school enrolment figures show that 52% of post-primary pupils identify as Catholic, while 38% say they are Protestant.
Deciding the voting age rests with Westminster, not Stormont.
Prime Minister David Cameron said the Conservatives would keep it at 18.
But if a Labour government is elected next year, Ed Miliband has promised to give 16 and 17-year-olds the vote.
The Liberal Democrats also support the idea.
However, a YouGov poll in August 2013 found that 60% of adults opposed lowering the voting age to 16.