Funeral of Sister Frances Forde and Sister Marie Duddy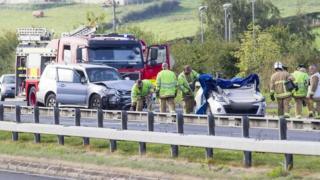 Mourners at the funeral of two nuns killed in a car crash in County Down have heard how they had spent their lives dedicated to education.
Sister Frances Forde and Sister Marie Duddy died after their car was in collision with a police car on the A1 outside Newry on Tuesday morning.
The nuns were members of the Sister of Mercy order, based in north Belfast.
Fr Gary Donegan said the nuns were "of very different personalities and demeanours", but were great friends.
He told mourners at Holy Cross Church in Ardoyne: "Marie leaves a legacy as an enthusiastic educationalist, expressed in second and third-level education, here in Belfast and Nigeria.
"Institutions such as Mercy College; St Joseph's Training College, now St Mary's University College; the School of Education at Queen's University; on the board of governors of both Mercy Primary and Mercy College; an author and educationalist to the end.
"Frances, who devoted her life to the children of Mercy Primary on the Crumlin Road.
"As principal, her maxim was 'be good to the teachers and to the staff'. How edifying it is to find people falling over each other; ex pupils and staff, trying to express how important she was in their lives."
Fr Donegan said the nuns would be "blushing in heaven to realise that their silent witness has now suddenly become headline news".
"Bishops, provincials; religious and civic leaders; the people of God, all of us, bursting with pride in association with these two wonderful women.
"That extended warmth was demonstrated yesterday morning, when accompanied by Bishop Noel, we received the thoughts and prayers of the Archbishop of Canterbury, the Archbishop of Armagh and various leaders of the Anglican Church.
"The names of Marie and Frances, prayed aloud in St Anne's Cathedral.
"There is going to be some conversation in heaven about that one between the two of them."