North Belfast parades dispute: Rallies across Northern Ireland planned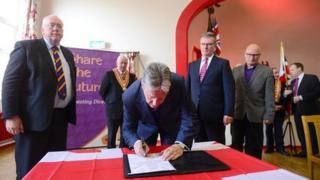 Orangemen and unionists are considering staging rallies over the north Belfast parades dispute, the BBC has learned.
The move is part of their "graduated response" to the Parades Commission's determinations preventing a march past Ardoyne shops on the Crumlin Road.
In July, Orange and unionist leaders called for the Northern Ireland Office to set up an inquiry into the parading dispute in north Belfast.
Unionists walked out of talks on flags, parades and the past.
They said that was the first step in what they described as a "graduated response" to the Parades Commission ruling.
Last week, a leaked document emerged which appeared to be a draft proposal from the NIO for a "panel of inquiry" into the north Belfast dispute.
Although an announcement is thought to be imminent, so far Secretary of State Theresa Villiers has yet to confirm the shape of any inquiry.
Officially the Orange Order has said it knows nothing about any planned rallies.
18 rallies
However, informed sources told the BBC that a plan has been discussed for at least 18 rallies around Northern Ireland in support of the north Belfast Orangemen.
The list of possible venues includes the Secretary of State's residence at Hillsborough Castle and the North-South Ministerial Council office in Armagh.
Some sources indicated the rallies would go ahead irrespective of any inquiry which might be announced by the NIO.
Others said senior unionists believe the protest plan should be delayed until after Ms Villiers sets out the details of the proposed north Belfast panel.
'Heighten tensions'
Sinn Féin said the rallies would heighten tensions.
"We need less parades in the north, not more," the party's Gerry Kelly said.
"This move can only heighten tensions and is part of a unionist effort to undermine the Parades Commission and put pressure on the British secretary of state to reward intransigence.
"In the past, when unionist leaders have called people out on to the streets we have seen a descent into street violence.
"There is a responsibility on the organisers to ensure that any rallies or public demonstrations are peaceful."
'Increasingly frustrated'
A protest over the Parades Commission's decision is continuing at Twaddell Avenue in north Belfast.
On Wednesday, Orange leaders met with those taking part in the protest.
Afterwards, Orange grandmaster Edward Stevenson said: "It is clear those with feet on the ground have real and genuine concerns, and are becoming increasingly frustrated at the present impasse.
"We in the Orange institution share those frustrations and remain committed to ensuring the three lodges complete their traditional parade to Ligoniel Orange hall."