George Savage: Former Ulster Unionist MLA dies at 72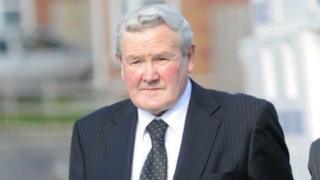 The former Ulster Unionist MLA, George Savage, has died at the age of 72.
The quietly-spoken farmer represented the Upper Bann constituency in the Northern Ireland Assembly until 2011.
Mr Savage was also a long-serving member of Craigavon Borough Council in County Armagh, serving two terms as mayor.
UUP leader Mike Nesbitt said he was "an Ulster Unionist stalwart who loyally and faithfully represented the party in the Upper Bann area for decades".
'Dedicated'
"He was a tireless worker for his constituents and held in very high esteem by political friend and foe alike," he said.
"George was one of the original 28 Ulster Unionist MLAs elected in 1998 with the courage to step into parliament buildings and try to give meaning to the Belfast Agreement.
"It is a sad and sobering thought that he is the sixth member of that brave team to pass away.
"My thoughts are with his family and his many friends. He will be greatly missed."
Sam Gardiner, Ulster Unionist assembly member for Upper Bann, said Mr Savage was "dedicated to serving the community, both as a soldier in the UDR and a politician".
UUP Upper Bann MLA Jo-Anne Dobson said: "In his time as an MLA, George was a friend to the farmer, serving on the agriculture committee and as its deputy chairperson."
SDLP MLA John Dallat also paid tribute, describing him as a "gentleman".
"The example he left behind was eventually picked up and, whatever the challenges in the future, the current assembly is better off having had him during those very difficult years in the assembly when leadership and example was crucial," he said.