One-armed driver refused disabled parking permit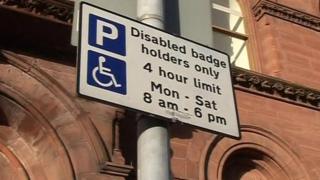 A woman who was born with one arm has claimed she was denied a disability parking permit because she was not considered to be "disabled enough".
Lisa Schofield, from Ballywalter, County Down, requested a permit under the Blue Badge Parking Scheme but her application was turned down.
The scheme was set up to help those with severe mobility problems, allowing holders to park near their destination.
The Stormont department that runs the scheme declined to comment on her case.
'Medically retired'
Ms Schofield is a former bank employee who had to leave her job because of her disability.
"I was medically retired because I was unable to lift anything or type or write or count money," she told the BBC's Good Morning Ulster radio programme.
She has the use of one arm, but said that limb has deteriorated and she now struggles to carry anything heavier than a pint of milk.
She requested the disabled parking permit because she finds shopping trips particularly difficult.
"I applied for a blue badge because of the whole lifting and carrying and yet I was turned down because I can walk," she told the programme.
"If you have only one arm, apparently you're not disabled enough," she added.
'Extra assistance'
Ms Schofield said she was concerned about her deteriorating limb and needed to be close to shops so she could retain her independence.
"If I don't rest it, if I overdo it, it will stop working, I've been told," she said.
"All I want is just a little bit of extra assistance so that things don't get worse, because the last thing anybody wants is for someone to have to wash and dress them," she added.
Ms Schofield told the programme she believed she would have qualified for a badge if she was unable to walk or if both her arms were missing.
'Severe disability'
The Blue Badge Parking Scheme operates across the UK, and in Northern Ireland it is administered by Transport NI, a business unit within the Department for Regional Development (DRD).
The DRD declined an interview request but advised that information about blue badges was available on the NIDirect website.
The website lists a number of eligibility criteria to qualify for the parking permit.
Among them, it states applicants will get a badge if they "cannot walk, or have very considerable difficulty walking".
It also states a permit will be granted to those who "have a severe disability in both arms and are unable to operate, or have considerable difficulty operating, all or some types of parking meter".