NI cancer service 'under huge pressure' say oncologists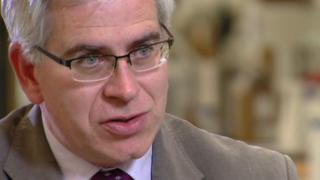 Medical experts have warned that cancer services in Northern Ireland are under severe pressure amid health budget cuts and growing demand.
The number of people diagnosed with cancer has risen by about 50% since 2000, and is expected to rise another 50% by 2030.
Figures revealed in a BBC NI Spotlight programme showed that cancer treatment waiting times continue to rise.
Oncologists told the programme that action needs to be taken.
"We're facing a huge pressure in terms of the projected increase in the number of patients diagnosed with cancer," said Dr Martin Eatock, a consultant medical oncologist at Belfast City Hospital.
"So there is a great pressure on the service because there is more treatment being given to a greater number of patients.
Missed targets
"If we don't start addressing that problem now, we are going to have a cancer service in its entirety that is not fit for purpose in 10 to 15 years' time."
Prof Joe O'Sullivan, clinical director of the Cancer Centre at Belfast City Hospital, said: "I don't think we are at the tipping point yet.
"But having discussed the various issues, particularly the increasing incidence of cancer and, of course, the current budget crisis, then we may not be too far away from that."
Spotlight reported that health trusts have missed targets on cancer treatment waiting times.
According to the Health and Social Care Board, it should take no more than 62 days between anyone seeing their GP with possible cancer and receiving their first cancer treatment.
The health service has set a target of achieving this in 95% of cases, but in July 2014 the target was met in 71% of cases.
In urgent breast cancer cases, the health board targets that referrals take place within 14 days. This occurred in 46% of cases in July.
Health Minister Jim Wells told the programme it was a "very serious" issue but that he was reassured that health trusts acted immediately after it was identified.