Farmers to be hit in fall in European subsidy payment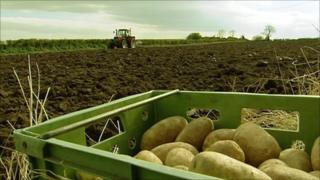 Farmers face a significant fall in the value of their European subsidy payment this year due to a fall in the value of the euro against the pound.
Single farm payments are set in euro and converted to sterling each year using the exchange rate on 30 September.
In 2013, the rate was one euro to 84p. This year it is one euro to 78p, a cut of 7%.
In cash terms, this will take about £25m out of the rural economy.
The DUP MEP Diane Dodds said it was the lowest exchange rate in seven years and was "bad news for our farmers and NI plc".
Even in good years, subsidies account for the majority of farm incomes in Northern Ireland.
In 2013, the single farm payment totalled £259m, about 87% of farmers' total income.