PSNI agency post cuts spell end of Historical Enquiries Team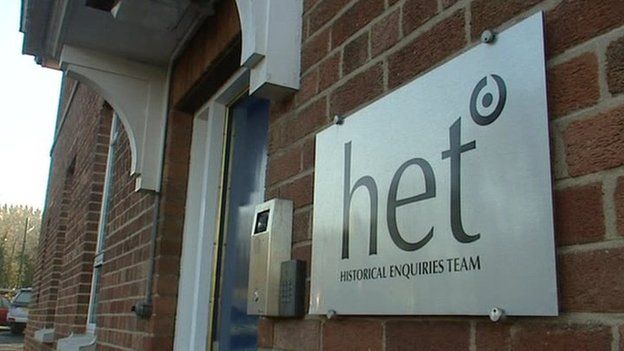 The Police Service of Northern Ireland is closing more than 300 temporary agency posts at the end of the year.
It said the cuts would "effectively mean the closure" of the Historical Enquiries Team (HET), which investigates Troubles-era killings.
DCC Alistair Finlay said it was a difficult but necessary decision.
"We simply cannot engage the services of people that we cannot afford," he said.
On the future of the HET, he said: "With cuts of this magnitude, as a police service, our immediate obligations must be towards keeping people safe today.
"The loss of these posts by the end of the year will effectively mean the closure of HET.
"In the last number of weeks, we have made it clear that the current financial challenges would mean there would be change in how PSNI responds to the demands of the past and the pace at which we can service the demand.
"The PSNI understands the importance of dealing with the past and that a huge deal of hurt and pain continues for the many people affected by our troubled history.
"If we are to achieve a safe, confident and peaceful society, dealing with the past is an issue that our society must address. However, achieving a solution lies well beyond the remit of policing."
Mr Finlay said the PSNI would continue to meet its legislative responsibilities with regards to the past, including fresh investigations where "new and compelling evidence" emerges.
He said he believed a much smaller legacy investigations branch would be formed.
"In recent weeks we have met with the Policing Board to discuss this challenge and we will continue to work with them as we progress the issue," he said.
The HET was set up in 2005 as a special investigative unit attached to the PSNI to re-examine the deaths of 3,260 people in Northern Ireland between 1968 and 1998.
Related Internet Links
The BBC is not responsible for the content of external sites.