Tamboran: Licence for fracking plans terminated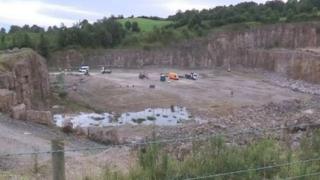 The licence granted to a company that plans to drill for shale gas in County Fermanagh has been terminated.
Tamboran was granted a petroleum licence in 2011. It had three years to inform the Department of Enterprise, Trade and Investment (DETI) on its decision to drill or drop their plans.
Enterprise Minister Arlene Foster said the licence had been terminated as the deadline passed earlier.
The company said it is seeking a judicial review of the decision.
Tamboran had planned to extract gas using the controversial fracking technique.
The terms of licence required the company to drill a borehole to take rock samples and carry out a preliminary environmental review within the three-year time frame.
In March, DETI granted a six-month extension until 30 September 2014 for the company to complete the first part of the work programme.
However, Ms Foster said she could not extend the deadline again as she did not believe the company could complete their work plan.
"There has been much engagement with Tamboran and we have assessed that they have not completed their work plan in terms of the licence and, therefore, we will not be extending it any further," she said.
'Close the door'
Tamboran said it had requested an extension of the deadline after informing DETI that it would be moving for a judicial review of the decision by Environment Minister Mark H Durkan to reject its request to drill a borehole at the site.
In a statement, the company added: "After investing in excess of £3m to date, we are disappointed that DETI failed to consider the option of a temporary extension pending clarification by the court as to the timelines for the judicial review.
"This decision as it stands could close the door on a project that could deliver up to 50 years of secure energy supply, in excess of 2,000 jobs and billions of much needed investment in the local economy."
Tamboran moved on to the site of a quarry near Belcoo in July and said it planned to drill a 750m deep borehole to see if the levels of gas would make extraction commercially viable.
The move led to protests by those opposed to gas exploration and fracking.
Protesters said they feared a borehole could be the first step towards setting up an industry that they believe could damage the environment and the health of people living nearby.
In August, Environment Minister Mark H Durkan said drilling could have a significant impact on the environment and ruled that Tamboran would have to make a full planning application with an accompanying environmental statement before drilling at the site.
Tamboran said it was "deeply concerned" by the decision and would be reviewing its position.