Dungiven: Police appeal for information after shots fired at empty car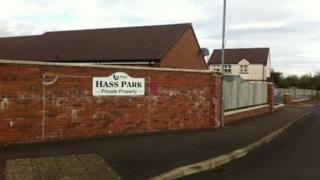 Police in County Londonderry have appealed for information after shots were fired at an empty parked car in Dungiven.
The incident happened at about 22:10 BST in the Hass Park area.
The police said a man wearing a hooded top fired two shots at the car.
It is believed the man left the area in another car that was parked nearby.
Sinn Féin MLA Cathal Ó hOisín knows the owner of the car and said the attack must be condemned.
"There was one shot fired into the driver's door and one into the back of the car which was in a small quiet residential estate
"The area is mostly made up of young families and older people, so it's a very worrying development," he said.
"I haven't been speaking to the owner himself but I have been talking to his family. Locally, it's not something we're very used to and there's no justification for this type of attack. "