Casement Park redevelopment will prevent 'decaying stadium', court hears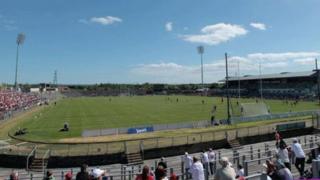 GAA fans will be stuck with a decaying venue if the decision to approve a new 38,000 seater stadium in west Belfast is quashed, the High Court has heard.
A judge was also told that more than £60m of public money allocated to the Casement Park redevelopment would be returned to the Stormont Executive.
The new stadium is largely funded by the Department of Culture, Arts and Leisure (DCAL).
However, residents have launched a legal bid to block the proposals.
The Mooreland and Owenvarragh Residents Association (MORA) claim that the proposed ground is simply too big for the area.
They argue that a ground of that size will block out light, dwarf surrounding homes, reduce the quality of life for those living close by and compound traffic congestion
No alternative
They have also said in court that many of the residents are grassroots GAA supporters and that they would have no problem with a 20,000 to 25,000 seater stadium.
However, lawyers for the Planning Service said that 60 years of sporting and cultural heritage at the site could be lost if the residents group wins their legal battle.
They said that there would be no alternative options if the residents' challenge succeeds.
The judge heard that DCAL have contributed £62.5m of the £77m cost of rebuilding the stadium as part of a project involving the development of Windsor Park football stadium and Ravenhill rugby ground.
A Planning Service lawyer said that if the funds are not spent in time, then a clause in the arrangement prevents them from becoming available again.
'Crumbling'
He said: "It's important that it's clear to all concerned that if the outcome of an application of this type is the quashing of planning permission, monies will not be available for this flagship project, but will be returned to the executive for redeployment to manage the obvious cost pressures that arise in other contexts."
The lawyer added: "Putting it starkly, if the applicants are right and the minister acted unlawfully in granting permission, the consequence will not be what the applicants say they want, a slightly smaller stadium on the same site.
"The consequences will be no stadium, no redevelopment, and the residents will be left with the do-nothing scenario sketched out in the business plan and the environmental statement.
"A crumbling and decaying stadium, rusting floodlights, Japanese knotweed, asbestos on the ground and all the detrimental effects the court has heard about."
The hearing continues.