Drumclay crannog dig 'rewriting medieval history'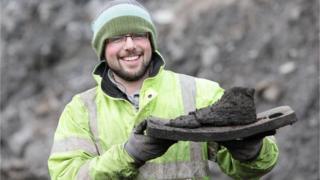 The findings of one of the most important archaeological digs in Northern Ireland will be revealed during a conference later.
Excavation of the Drumclay crannog in County Fermanagh uncovered more than 4,000 objects, dating back to AD 700.
Environment Minister Mark H Durkan said the finds were rewriting history.
"The excavation at Drumclay proved to be one of the most important of its type that has taken place in Ireland for decades," he said.
The dig began in June 2012, after the settlement was disturbed during engineering works for the A32 Cherrymount link road near Enniskillen.
"The rich quality of the excavated remains from Drumclay will reshape our understanding not just of this site, but that of crannogs across these islands and medieval settlements in Europe as a whole," Mr Durkan said.
"Occupation of Drumclay spanned over 1,000 years from the seventh to the early 17th Century.
"Due to the water logging of the site there have been exceptional discoveries and superb preservation of organic material, including the remains of more than 30 wooden houses.
"Thousands of finds have been recovered, including objects of bone, textile, glass, amber, pottery, metal and stone.
"Wooden and leather artefacts, not usually found on excavations of most dry-land sites were also unearthed."
An additional mysterious find included the 600-year-old skeleton of a teenage woman.
The Drumclay crannog public information day will explore the preliminary results from the excavations.
Speakers include experts from Queen's University in Belfast and University College Dublin.