Iraq air strikes: Northern Ireland parties divided over Commons vote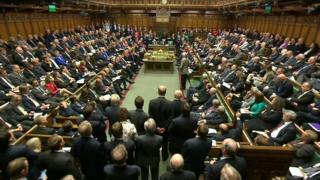 Northern Ireland parties are divided over whether there should be air strikes in Iraq, as MPs voted to support British military action.
A total of 524 MPs have given their backing to a government motion to authorise UK air strikes against Islamic State militants in Iraq.
The motion was opposed by 43 MPs, who voted against British intervention.
MPs voted on the issue at Westminster after parliament was recalled from the summer recess by the prime minister.
Ahead of the vote, David Cameron told the House of Commons that there was a "strong case" for UK military intervention in Syria, as well as Iraq, to confront Islamic State.
He also told MPs that it was in the UK's interest to join in bombings in Iraq against Islamic State and there was "no legal barrier" to similar action in Syria.
'Not convinced'
Although there was much support for military action across the political parties, Northern Ireland's Social Democratic and Labour Party (SDLP) argued that air strikes should not be considered.
SDLP MPs Mark Durkan, Margaret Ritchie, and their party leader Alasdair McDonnell voted against the motion.
Mr Durkan said: "Whilst I can fully understand those who want to respond in a sharp way - especially given the nature of what the Islamic State has done and we know are capable of doing - I am still not convinced that these measures can be effective in the precise way that people claim."
The Foyle MP added: "We have had all sorts of claims in the past about precision air strikes in Afghanistan and elsewhere, which have led to the deaths of thousands of innocent people. Indeed, the Israelis are supposed to have the sharpest technology available and look at how many innocent people they have killed in Gaza."
'Direct threat'
Others parties insisted that it was right that air strikes went ahead.
Democratic Unionist Party (DUP) MP Nigel Dodds said: "Intervention is justified because it is on a sound legal basis. It is at the request of the Iraqi government and there is a clear and direct threat to the United Kingdom through the murder of British citizens already."
The North Belfast MP also said: "We will be part of a coalition which includes Sunni Muslim states and there is a clear plan where we can make an effective difference for the better. The barbarism has already targeted UK citizens and we must respond to that, otherwise we will be failing our people."
The DUP deputy leader added: "We wish our airmen and women well and wish them God speed.
Alliance MP Naomi Long also supported government plans to launch airstrikes
The East Belfast MP - who previously voted against airstrikes in Syria - said the UK was now obligated to act after its "misguided intervention" in Iraq, adding the Islamic State now posed a significant threat to the Middle East and beyond.
Ms Long said: "ISIL has shown it will not be deterred from putting the lives of many at risk, and that their reach now extends far beyond Iraq.
'Slaughter'
The Alliance MP added "Airstrikes alone are not a solution and must be used in support of humanitarian and political assistance in Iraq and the rest of the region. But in this case they are, regrettably, required to prevent ISIL continuing to slaughter civilians in Northern Iraq and expanding their base, further destabilising the region."
The Labour leader Ed Miliband said the Islamic State was a "murderous" organisation intent on "more killing" although he urged the endorsement of the United Nations for military intervention.
The prime minister said he believed military action would be lawful on the grounds of intervening to prevent a humanitarian catastrophe and protecting neighbouring Iraq from attacks being launched from Syria.
North Down MP Lady Sylvia Hermon did not attend the House for the vote.
She said the outcome was a foregone conclusion and added: "I chose to stay in North Down and keep my long-standing commitments to my constituents."