Nigel McGothigan jailed for Ballycastle killing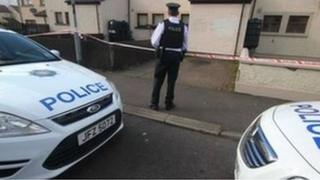 A 30-year old County Antrim man has been given a five-year sentence for stabbing another man to death.
Kevin O'Neill, 25, died following a knife attack at a house in the Stroanshesk Park area of Ballycastle on 21 April, 2013.
Nigel Thomas Martin McGothigan, 30, originally from Broombeg, Ballycastle, pleaded guilty to his manslaughter.
The judge said Mr O'Neill's family were "having great difficulty coping with his loss".
Before passing sentence, the judge said a probation report compiled on McGothigan suggested he posed a high likelihood of re-offending.
He said this was linked to "instabilities in his life" including being homeless, a lack of a "positive support network" and issues with alcohol and drugs.
The judge also revealed that McGothigan was not assessed as meeting the criteria of a significant risk of serious harm to others.
McGothigan was handed a five-year sentence - half of which will be served in custody, with the remaining two and a half years spent on licence when he is released from prison.
'Unbearable'
Speaking on behalf of the O'Neill's family, the victim's sister, Meghan, said that while they expected the sentence, it was not what they wanted.
"Obviously as a family we would want to throw away the key, but that is not the case," she said.
"Knowing he will be locked away from the public or a while longer gives us peace of mind that he cannot re-offend during that time."
She said her family had "been through hell for the past 16 months".
"Kevin was an amazing, funny and lovable person," she said.
"He was very witty and humorous and imagining the rest of our lives without him feels unbearable - but that has become our reality.
"His death has left us all with our own life sentence."