DUP questions Martin McGuinness' leadership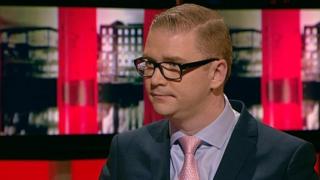 Northern Ireland's finance minister has accused Deputy First Minister Martin McGuinness of being unable to show leadership over welfare reform.
DUP MLA Simon Hamilton claimed Sinn Féin "refused" to allow a paper dealing with serious financial pressures facing Stormont to be tabled at the executive.
Ministers face having to make £200m of cuts over the next six months.
The paper was circulated at Thursday's meeting but was not formally tabled for discussion and no decisions were taken.
Speaking on the BBC's political programme The View, Mr Hamilton said Sinn Féin President Gerry Adams, who is a member of parliament in Dublin, was "calling the shots".
"Martin McGuinness, who of course wanted to do a deal on welfare reform, can't move forward and show leadership on this issue," he said.
Sinn Féin's Alex Maskey described as "disingenuous" reports that Mr Adams had suggested the party would allow the executive to collapse over the welfare issue.
"Gerry Adams is not suggesting for one second that we are happy to let the institutions collapse," he told the BBC's Good Morning Ulster on Friday.
"We are working very hard to keep them afloat.
"Why would we want to hand over any power back to a British government minister who may fly in and out one or two days a week."