Francis McPeake 'told life after lie' Belfast trial told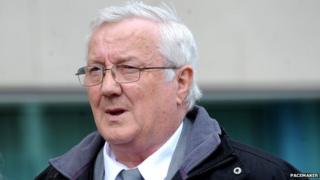 The jury in the trial of traditional Irish musician Francis McPeake has been told he had "carefully crafted and contrived" a defence built upon lies.
The 72-year-old denies 12 counts of sex offences against a girl who was 15 at the time of the alleged incidents.
A prosecutor accused him of "telling lie upon lie upon lie".
However, the jury also heard the accuser branded an "accomplished liar" and a "fantasist" by a defence barrister.
He said she had spun a "web of lies".
Following a trial a Belfast Crown Court that has lasted over a week, the jury heard evidence from the girl, several of her friends and family members.
She claimed Mr McPeake, from Eliza Street Close in Belfast, hugged her during a music event in May 2009, and that during a cross-border group trip in July of that year, they became intimate.
The girl, who is now 20, also claimed that when the group returned to Belfast, she and McPeake embarked in a sexual relationship and that over the coming months they had sex in the McPeake School of Music, in a music workshop and in his car.
The accused branded the girl's allegations as "false and malicious" and that he tried to offer guidance and support to the troubled teenager.
As the Crown made its closing speeches, the prosecutor spoke of the "very, very extensive contact" between the girl and Mr McPeake.
Saying that "no other special girl" received the level of attention from Mr McPeake that she did, he asked the jury whether the pensioner was "taking advantage of a child who latched on to him" - a child who was "obsessed about music and who constantly talked about him".
'Huge contradictions'
Mr McPeake's barrister then addressed the jury and said that since his client started tutoring music back in 1977, there were "no previous convictions against the backdrop of teaching the children of Belfast traditional music."
He also spoke of "huge contradictions" regarding evidence given by various Crown witnesses, especially, he said, from the alleged victim. He told the jury that from the witness box, she "looked across at you, she looked you in the eye and she lied and lied and lied".
The barrister told the jury: "This innocent man will walk out of that door an innocent man, because that's what he is. As he sits in the dock, he is an innocent man. He is innocent unless and until you say differently ... only you can change his status. His fate is in your hands."