RC Scott: London woman seeks help in tracing Northern Ireland war hero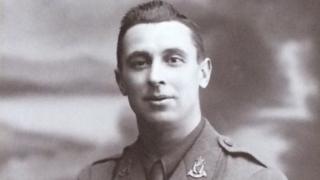 A woman from London has appealed for help in solving the mystery of a war hero from Northern Ireland whose possessions were found in a trunk in her house.
Sarah Warwick said when she was a child, her mother found a metal army trunk in the loft of their London home.
Among its contents were photos, books, letters, an x-ray and medical note from August 1943.
Also found were a war satchel, helmet, shin protectors and an army coat.
Sarah's mother asked the elderly woman who lived there before them if she wanted the items, but she said no.
Her mother then put the trunk in the garage and then forgot about it.
The items belonged to a man called RC Scott, who appear to have risen to the rank of major. An MC after his name revealed he had been the recipient of a Military Cross and labels on the photos showed he had been in the Royal Irish Rifles and later the Ulster Special Constabulary.
The first photo dates from 1908 and is of a gymnastics team from Belfast YMCA.
The Warwicks moved into the house about 27 years ago and were only the second family to live there.
Mrs Warwick died last year, and as Sarah was clearing items from the house, she came across the trunk in the garage and was left wondering just who RC Scott was and how the possessions of someone so obviously connected to Northern Ireland came to be in the loft of a home in London.
Sarah told BBC Radio Ulster's Talkback programme: "There are a lot of photos here and it would just be good to put them with his family," she said.
"If we can't find the family, then it would just be in interesting for some kind of museum, rather than just sitting in my garage.
"It's kind of a bit strange, because obviously I live in south east London/Kent and most of this is Irish-related. It almost sounds a long way from home.
"I know the people who used to live here and their name is not Scott and I can't find a record of Scott, so I don't know how he links with the family who used to live here.
"So it would just be nice to give him a home."
Gavin Glass, the curator of Royal Ulster Rifles Museum in Belfast has begun researching RC Scott.
He discovered he was Robert Clements Scott, who once lived at Carnagh House in Keady, County Armagh, and who was commissioned into the Royal Irish Rifles in 1915 and sent overseas in 1916.
He was made lieutenant in 1917 and awarded the Military Cross in 1919.
The citations reads: "For conspicuous gallantry in the Messines sector [in Belgium] during the operations on 5th and 6th of September 1918.
"The company commander having become a casualty, he immediately assumed command, led his men with great determination through very heavy fire and repelled a local counter-attack.
"When the objective was taken, a party of the enemy, which was still holding out in a portion of the trench, was driven out by him."
Mr Glass said the museum will carry out more research and try to find out how Scott's possessions ended up in London.
He said if they were not claimed, the museum would be happy to take care of them.
"He is a Royal Irish Rifleman, so it is part of our history," he said
"We would certainly accept this if the family could not be found or was happy [for the museum to keep them].
"We would take them and take care of them and look after them until research was done and if the family turned up we would willingly give them back."
Until then, the mystery of how the items ended up in Sarah Warwick's home remains.