Facebook page 'named and shamed 400 NI sex offenders'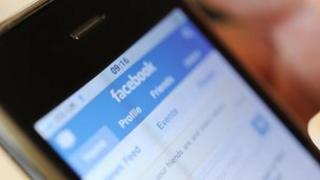 The operator of a Facebook page that claims to monitor paedophiles in Northern Ireland has told a court 400 sex offenders were "named and shamed".
Joe McCloskey denied he was running a witch-hunt and claimed his site helped to secure up to seven convictions.
Mr McCloskey is being sued along with Facebook by a convicted child sex abuser who is seeking compensation.
The man's photograph and details appeared on the page 'Keeping our kids safe from predators II' page.
Disclaimer
He is seeking damages for misuse of private information, and breaches of the Data Protection Act and his right to freedom from inhuman or degrading treatment.
The man, who cannot be named, is currently on licence after serving a lengthy jail sentence for offences of gross indecency and indecent assault on a child.
He alleges that among abusive comments posted on the page after his release from prison, some were aimed at finding out where he lives.
One user called for him to be hanged while others endorsed shooting him.
Mr McCloskey told the High Court in Belfast on Wednesday he had included a disclaimer that opposed any violence and intimidation.
Using internet searches to find press reports and photographs from criminal cases, he said other victims had contacted him to tell their stories when there was no newspaper coverage.
"I have 400 sex offenders on my Facebook at the minute, all local," he said.
Banned twice
Asked by his barrister why he was republishing information, Mr McCloskey said: "Because there's no system in this country that has the whole lot in one place.
"If somebody wants to know if there's a sex offender living in their local area, all they have to do is click on my Facebook page."
He said he now has 25,000 friends on his page, 2,000 of whom have been added since the court action began.
Mr McCloskey said he had also blocked about 3,000 people for posting unacceptable comments.
He claimed threats had been directed at him as well, either by "sex offenders themselves or their families or friends".
Mr McCloskey claimed he receives up to 50 private messages a day from victims and survivors seeking advice, some of whom were directed to his Facebook page by police.
Asked about the damages being sought, he said: "I have been offered money but I never took any. I don't think it would be right benefiting from it."
He told the plaintiff's lawyer he has twice been banned from Facebook for 30 days because of photographs published on the page.
The case continues.