George Best charity being wound up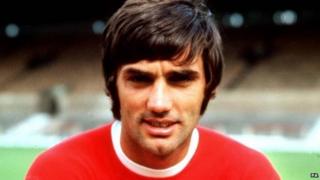 A charity set up in memory of football legend George Best is to be wound up after eight years.
Best's sister, Barbara McNarry, said in a statement it was the "right course of action" because of her ill-health and a desire to have more time in retirement.
She added it was a move she and her husband Norman had been "contemplating for some time."
Ten months ago, four of the six trustees of the George Best Foundation resigned and were never replaced.
They stepped down at the same time as a firm of chartered accountants was conducting a review into how the charity was being run.
Mrs McNarry said during the charity's eight years it had donated £280,000 to football and health projects.
The statement said: "We feel after putting our hearts and souls into the work of the foundation we have taken it as far as we can."
A spokesman for the charity said: "Once outstanding creditors have been paid as part of the winding down process it is envisaged there will be a substantial surplus.
"It will be transferred to and managed by another independent charity and used to support projects aimed at upholding the legacy of George Best."
According to the last accounts the foundation filed at Companies House, covering 2011-12, it had £150,000 in cash.
At the time of the resignations last year, Mr McNarry told the BBC the charity had "an extremely good future".
Its chairman is businessman Terence Brannigan, who also chairs the Maze Long Kesh Development Corporation.
He said the McNarrys had worked "tirelessly and have earned the right to step outside the public eye."
Mrs McNarry left her job in the civil service to set up the charity the year after the footballer died.