Northern Ireland parades: SDLP concerned by reports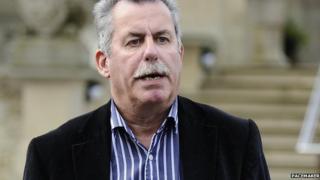 The SDLP has said the Parades Commission should be the only body ruling on parades in Northern Ireland.
It follows reports of a government plan to set up a legal inquiry into the issue of parades.
In July, unionist leaders called on the Northern Ireland secretary to set up a commission of inquiry.
The SDLP's Alban Maginness said unionists should not get their way just because they did not like decisions made by the Parades Commission.
"I think the important point here is to allow the Parades Commission to do its job - it's the lawful authority, let it determine the issues in relation to Ardoyne [in north Belfast]," he said.
"Let's not have another body interfering in the work of the Parades Commission."
On Tuesday, it was reported that Secretary of State Theresa Villiers was proposing to set up a panel of inquiry over the disputed Ardoyne parade.
The Northern Ireland Office (NIO) said a decision had yet to be taken.
Ms Villiers is to hold separate meetings with the SDLP and Sinn Féin on Wednesday.
Unionists made the call for a commission of inquiry after a 12 July Orange Order parade was barred from returning along part of the Crumlin Road in north Belfast.
Speaking on BBC Radio Ulster's Good Morning Ulster programme on Wednesday, Progressive Unionist Party leader Billy Hutchinson said the "devil would be in the detail" of the reported document.
"We're not sure where this document is, we think if the secretary of state is going to do this, we would want to see the detail of it," he said.
"We need to see who is on the panel, what authority it will have, what its remit will be, what it will do.
"The reality is we need to resolve those problems along that road. We need to move forward in this society and we need to find ways of doing it," he added.
A nationalist residents' group said it was angered by the reports of the inquiry.
The Greater Ardoyne Residents' Collective (Garc) said such a commission would represent a "blatant attempt to by-pass the Parades Commission" that makes rulings on contentious parades.
Dee Fennell of Garc said: "People in this area are quite angry about the fact they seem to have the British secretary of state willing to set up a process that could potentially overrule a decision by the Parades Commission, which is meant to be an independent body."
However, in a statement, the NIO said: "The secretary of state expects to conclude discussions with a wide range of interested parties on this issue soon.
"No decisions will be taken until those meetings have concluded. "
"Furthermore, we will not comment on the status of leaked documents.'
Unionist leaders and senior Orange Order officials announced a number of measures at a news conference in July to explain what they termed a "graduated response" to the Parades Commission ruling in north Belfast.
Non-violent protests
The commission had ruled that the Ligoniel Orange Lodge should not make a return parade along a stretch of the Crumlin Road that separates unionist and nationalist communities on 12 July.
As a result, unionist parties pulled out of talks on parades, flags and the past.
It was the second year in a row that such a ruling was made.
Several nights of rioting took place after the same parade was stopped from returning along the road last year, with scores of officers injured.
This year's parade passed off peacefully after unionists and the loyal orders called for non-violent protests.