Northern Ireland Executive must find £200m of cuts between October and April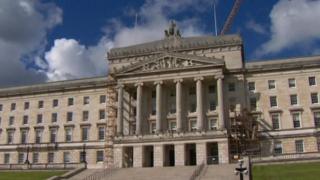 The Northern Ireland Executive will have to find £200m of cuts between October and April, equivalent to 4% of all departmental budgets.
If health spending continues to be protected the cuts at all other departments will rise to 6%.
The Belfast Telegraph reported the move could mean a redundancy scheme for civil servants.
The cuts emerged during the October monitoring round - one of the regular budget reallocation exercises.
Ministers and civil servants are currently working on this.
Executive ministers are expected to discuss the budget pressures on Thursday.
The savings need to be found because of more than £100m of "inescapable pressures" and welfare reform fines of almost £90m.
Northern Ireland is being penalised by the Treasury for not endorsing welfare reforms passed by Westminster in February 2013.
Sinn Féin has led the opposition to the reforms.
In July, the Finance Minister Simon Hamilton announced that Stormont departments, excluding health and education, were to have their budgets cut by £78m.
Those reductions are due to take effect in October.