Marion Millican court: Murder accused 'told counsellor of plans'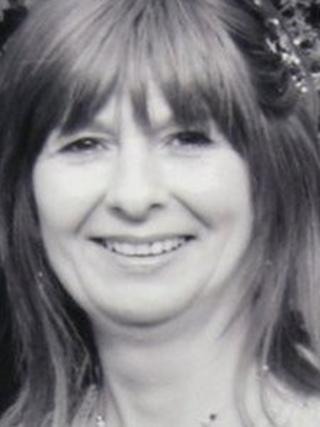 A man accused of murdering a County Londonderry woman revealed plans to kill her and shoot himself to a counsellor, a court has heard.
Lifeline worker Helen Sherrard said Fred McClennaghan revealed the murder-suicide plot on Christmas Eve, 2010.
Mr McClenaghan, 52, of Broad Street, Magherafelt denies murdering Marion Millican at a Portstewart launderette in March 2011.
He has pleaded guilty to her manslaughter.
He said he accidentally shot her during a botched suicide.
Mrs Sherrard told Antrim Crown Court sitting in Belfast: "Fred phoned in sometime in the morning on December 24, 2010, and said he had suicidal thoughts.
"He stated he had anger issues and talked about having flashbacks to his childhood of sexual abuse when he was aged six.
"He said that over the past six to nine months his anger issues and suicidal thoughts had been increasing.
"He said: 'I am afraid of what I might do. I am afraid of what I am capable of'.
"Fred said that he had been in a relationship with Marion and that a week previous, on December 18, it had come to an end.
"There had been an argument, he said, and he had lashed out and struck his ex-partner and she was refusing to have any contact with him at all.''
'Suicide plan'
Mrs Sherrard said Mr McClenaghan told her he had been in contract with his own doctor who was aware of how he was feeling.
"I asked him had he a suicide plan and he told me what that was. He said his suicide plan was to kill his girlfriend and then kill himself," she said.
The court heard police subsequently went to Mrs Millican's home and warned her of the threat to her life from her former partner.
Under cross-examination from defence counsel, Mrs Sherrard confirmed that she later became aware that Mr McClenaghan had attempted suicide when he was 17 and had spent six weeks in hospital.
The jury heard that another Lifeline worker telephoned Mr McClenaghan on Christmas Eve to check on his state of mind.
A record of the conversation was read to the court in which he told the counsellor that he felt like "going out and getting full drunk and wrecking the place''.
Mr McClenaghan was asked if he was still thinking about killing his girlfriend and he replied: "I don't know.''
Medication
Earlier, a forensic practitioner said he had examined Mr McClenaghan on behalf of the PSNI following his arrest on 11 March 11, 2011.
The doctor said Mr McClenaghan told him that he had been suffering from depression for the past nine months and was on anti-depressant medication but had not taken his tablets for a number of days.
The jury was told that two weeks before the shooting, the defendant saw a community psychiatric nurse and a counsellor from the charity Nexus, about being sexually abused as a child.
"He said that he still had thoughts of self harm and on that day (of the killing) he was going to shoot himself,'' the doctor said.
He added that Mr McClenaghan told him he had gone to see his former girlfriend with an illegal gun and that during a "struggle she grabbed the gun and he shot her accidentally''.
The doctor told the court: "I examined him and noted he was very irritated. He was shouting at times and was angry at the fact as to why no one would do anything about the fact that he had thoughts of self harming.''
The forensic examiner said he concluded that McClenaghan was "fit to be detained and fit to be interviewed".