What does welfare reform mean for Belfast families on benefits?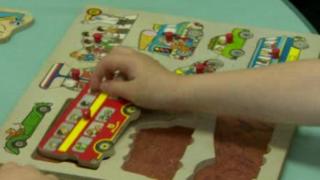 It has divided the Stormont Executive and some have predicted it could bring down the Northern Ireland Assembly - but what does welfare reform mean to people on benefits?
At St Luke's family centre in Twinbrook, mums can drop in and use the crèche facilities. They can also get advice on benefits and training courses for getting back to work.
Many of the mums would fall into the so-called benefits trap.
They receive income support, child benefit and housing benefit and would need to earn a significant salary to equal what they receive from those benefits and to pay childcare costs.
Leanne Gibson has four children, the youngest eight months.
"It makes me feel like a bad parent because I can't give my kids what they want," she said.
"It stresses me in a big way, because you try and find money if they need new shoes and clothes. But by the time you get your money and spend it on food and your bills there's nothing left.
'Bills'
"I'm really hoping the change doesn't affect us."
Cutting the total amount of money one family can receive on benefits is one of the proposed changes - it has been referred to as the benefits cap. In England, it has been set at £26,000 a year.
Most of those affected in England are living in houses with high rents. But in Northern Ireland the majority of those claiming more than £26,000 are lone parents with large families.
Those families will have their current benefits cut by around £50 per week - the largest families will lose £135 per week.
Kelly-Ann Holland, 25, from east Belfast could find herself in that category. She has four children and receives housing benefit, income support and child benefit.
'Penalised'
"It really annoys me when I hear people say they're only having children to get their benefits. I fell pregnant and I have to be grown-up and look after them. I don't think it's fair really that bigger families will be penalised," she said.
That is something echoed by Sure Start worker, Gael McAllister, who has two children of her own. "I see families coming to us and it's the only fruit the children will get and the only proper meal."
"You can't go into a home with a lot of children and cut, cut, cut away at it. It just isn't fair. I dread to think what would happen to those children," she added.
Sammy-Jo Dempsey, 22, has two children under the age of three. A former beauty therapist, she had to give up work after her children came along.
'Proper meals'
"I hate being on benefits, but I've no choice," she said.
"Some weeks I have to borrow off family, it just depends how the week falls. If I could get a job that paid enough to pay for childcare I'd take it. That's what I'm aiming for."
None of the mums I spoke to in east or west Belfast had any idea of the changes that have been proposed. It seems the political arguments are far removed from the reality of living on benefits.