Francis McPeake abuse trial: Accused gives evidence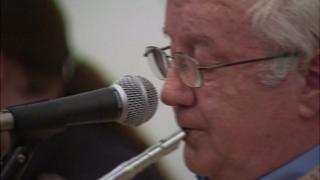 The traditional Irish musician Francis McPeake has begun giving evidence at his trial.
The 72-year-old denies 12 counts of sex offences against a girl who was 15 at the time of the alleged incidents.
He told Belfast Crown Court that the allegations were lies.
He admitted hugging the alleged victim on her birthday, but only for three or four seconds and was no different as to how he would hug anyone who was upset.
Mr McPeake told the court that the hug had happened at a music event in May 2009 and he only did so after none of her friends turned up.
The pensioner said he travelled the world for 60 years playing music with his family and that he taught 5,000 people, many of them children, music.
Under questioning by his defence lawyer about the alleged incidents Mr McPeake said he had problems having sex with his wife after receiving treatment for cancer and that he was medicated for that problem and other health issues.
Mr McPeake said more than 20 times, when there was any mention of any specific allegation against him, "that is a lie".
He also told the court that he used to be an alcoholic in the 60s and 70s, but was now a teetotaller.
He claimed the alleged victim smoked, swore and drank alcohol on a music trip with other children to County Clare where it is claimed some of the abuse took place.
The trial continues.